Lately, I've been getting into a lot of
Soul
and
R & B
music. More particularly, I have been checking out artists and bands within these genres of music, that are of
British
origin. One of my favorite British groups to listen to right now are the
Soulnaturals
, especially when featuring singer
Lotus D
at the lead. Read on to find out why they were chosen for this
'Today's Tune'
post, here at
Junior's Eyes
.
I live in an area near
Baltimore, Maryland
, in the
United States
. Therefore, it's impossible for me to not be aware of the
Baltimore Ravens
, our local
NFL
team. I would have to describe myself as being an extremely casual fan of
American football
, at least until my local team gets into the playoffs. Of course, I watched the
Super Bowl
on Sunday.
Obviously, I was rooting for the
Ravens
. Defenseman
Ray Lewis
has been one of the team's most respected leaders, and the incredibly popular player had announced weeks ago he was to retire after this season. So for that and many other reasons, I was very hopeful that he and the
Ravens
could go all the way, and win
Super Bowl XLVII
. I was so glad that they did win, and are now the
Super Bowl champions
, for a second time.
See Ray's tweet from the plane ride home.
It was fun to see who else was joining in, and showing interest, too.
#RayLewisRise Brother Rise and Claim Your Prize!Soulnaturals feat. Lotus Dsoundcloud.com/soulnaturals/r…Go Ravens!#Ravens#RavensTalk

— Dan, Jr. (@DanJunr) February 3, 2013
Soulnaturals Featuring Lotus D - "Rise Brother Rise"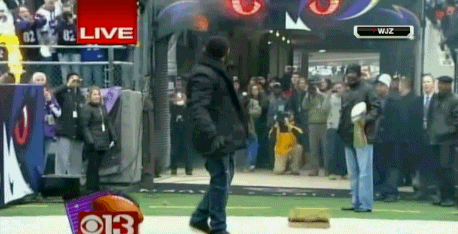 Ray Lewis does his game day dance at home stadium rally, after parade - Baltimore, MD February 5, 2013.